DISCLAIMER: THIS CONTENT IS FOR INFORMATIONAL PURPOSES ONLY. IT IS NOT A RECOMMENDATION TO PURCHASE TOKENS OR ANY OTHER ASSETS. ANY INVESTMENTS MADE IN THE PROJECTS OR ASSETS MENTIONED BELOW ARE DONE SO AT YOUR OWN RISK. THIS IS NOT FINANCIAL ADVICE.
---
Project Highlights
Summoners Arena is an idle RPG built on BNB Chain that builds on the success of its traditional mobile game precursor, Summoners Era: Idle RPG Heroes, which has more than a million installs on Google Play.
The game's current economic model does have some deflationary features such as item upgrading and summoning new heroes, to help maintain the value of $ASG, the utility token.
Summoners Arena has 37.4K Twitter followers and 28.6K Discord members.
In February 2022, Summoners Arena raised a $3M seed round led by Pantera Capital with other prominent backers including Coinbase Ventures, Onechain Technology, GuildFi, Merit Circle, Cosmic Guild, Coin98 Ventures, Istari Ventures, Spartan Group, Impossible Finance, Kyber Ventures, Kyros Ventures, top-tier traditional gaming backers of OneSoft, Zitga, Sonat and many other solid backers.
The team is not only led by veterans in game developing but also young talents in the blockchain industry, and many from the Summoners Era team.
In January 2022, Arena listed 20,000 NFTs across Binance NFT, Summoners Arena website, and GuildFi, in a successful Triple IGO event. With a price of 0.1BNB, the NFTs sold out in 4 minutes (except on Binance NFT).
Although Idle games have lower DAU than hyper-casual games, this game genre is more engaged, with more daily sessions and longer session times on average. Idle games consistently top the wider Arcade genre in terms of average revenue per DAU, with nine times that of hyper-casual games (according to GameAnalytics).
After a successful seed round, the team continues to build on their previous success to provide an innovative, engaging blockchain game to their community. Summoners Arena will soon launch the mainnet version integrated with a free-to-play system, lowering the financial incentives to allow everyone to participate.
Overview
Summoners Arena is a Vietnamese blockchain-based play-to-earn idle-RPG built on BNB Chain. Gameplay consists of turn-based battles with dungeon enemies (PvE), Arena (PvP), completing quests, finding epic loot, leveling up characters, summoning new heroes, and building your dream team of 5 heroes.
Gameplay
As an idle RPG, Summoners Arena combines the immersive lore of Summonia with the battle mechanics of tried-and-true turn-based combat. Campaign (PvE) is the primary game mode, in which idle rewards are earned based on how far you progress. Besides, Summoners Arena leverages the self-actualization and intense competition of the game through the Arena and Battleground (PvP) mode, in which players defend and offend others to achieve higher rewarding ranks.

Rewards include ASG & SAE tokens, and other resources such as EXP, gems, hero fragments, etc

. Naturally, the amount and quality of resources and gear increases throughout the campaign.
Figure 1: Actual Gameplay of SA
???? It may seem counterintuitive that a less-active game would interest players for long. However, data shows that Idle games actually have extremely high retention rates. According to gameanalytics.com, idle games have a stickiness rate of 18% while hyper-casual titles have 10.5%.
Game Economy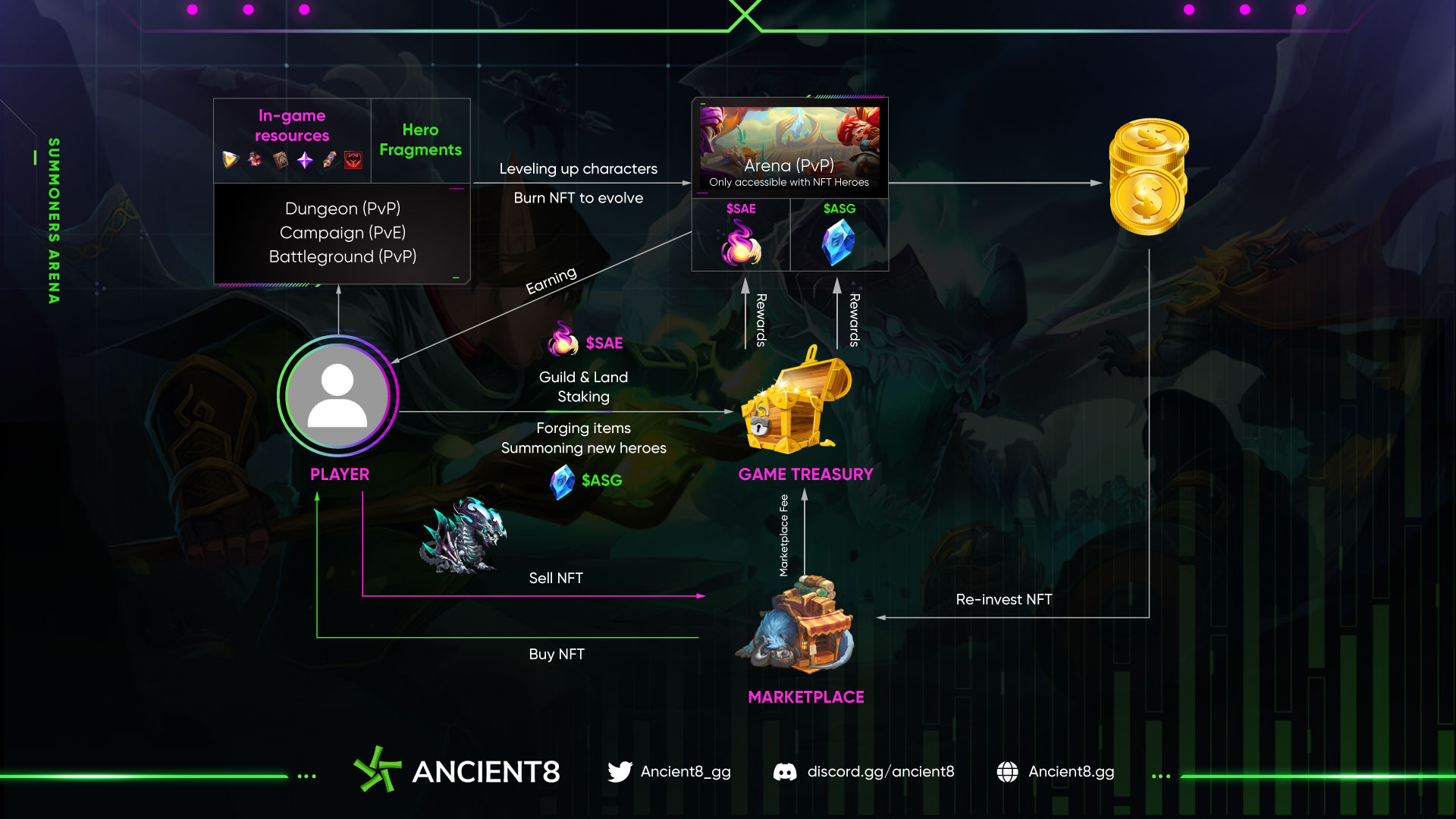 Figure 2: Summoners Arena Game Economy
Users must carefully plan their tactics while forming a team based on the game's economic basis, as Arena PvP is the only mode in which users may receive token rewards.
The game's economic balancing elements are intimately connected with the game's features, so players should consider how to use resources (requires knowledge and skill) such as tokens and heroes effectively to be truly competitive through forging items, summoning new heroes, evolving, and leveling up.
Figure 3: $ASG Utilities
There are two game modes in Summoners Arena: non-NFT and NFT. This allows users to play the game without having to make an initial deposit and still be able to fully experience the game features.
Furthermore, unlike some other games recently, it is a striking feature of SA when the game is designed with a low-level NFT burning mechanism to upgrade the powerful NFT ones. For SA and the Idle game genre, the top bonus in the leaderboards motivates players to upgrade the NFTs continuously so that the power average in the game increases linearly over the life of the game, making the continuous creation of NFTs and burning of old NFTs take place.
Guilds & Land
In the traditional version of Summoners Era, Guilds & Land do not bring economic benefits. The features and utilities offered by Guilds & Land in Arena are yet to be announced, but this may be one of the most pivotal factors in determining Summoners Arena's staying power and long term success.
Utilities for Guilds and Land will help stabilize the in-game economy. Here are some possible ways this could play out:

Players pay $ASG rental fees for Land owners to farm out valuable goods. Landlords have to pay Land tax. $ASG supply decrease ↓
$ASG is paid to upgrade Land for better drop rates. Players are more likely to level up their lands for extra yield. Deflation factor
Guild War rewards in $SAE, with an attendance fee in $ASG
Figure 4: Guild & Land of SA
Tokenomics

Figure 5: SA Tokenomics Flow
$SAE (Goverance token)
$ASG (Utility token)

Total Supply: 500,000,000 (Deflationary)

Total Supply: Infinite (Inflationary)

Emission
• PvP end-season rewards for top players on leaderboard
• Governance participation rewards for activities such as Voting or Staking

Emission
• PvP rewards per winning battle
• Guild rewards

Use cases
• Summon Boost-Up
• Paying Evolution Fee
• Paying Maintenance Fee
• Governance
• and more to be released in later stage

Use cases
• Summoning new heroes
• Evolving heroes
• Upgrading items (Forging)
Figure 6: Inflationary and deflationary factors of SA tokens
Investors and Partners
In February 2022, Summoners Arena raised a $3M seed round led by Pantera Capital with other prominent backers including Coinbase Ventures, Onechain Technology, GuildFi, Merit Circle, Cosmic Guild, Coin98 Ventures, Istari Ventures, Spartan Group, Impossible Finance, Kyber Ventures, Kyros Ventures, top-tier traditional gaming backers of OneSoft, Zitga, Sonat and many other solid backers.
With such prominent names providing investment and general support (especially the gaming guilds and top-tier traditional gaming backers), we are reasonably confident in Summoners Arena's outlook.
Figure 7: Backers of Summoners Arena
Community Growth & Interaction
| | Twitter | Inactive followers | Discord | Telegram |
| --- | --- | --- | --- | --- |
| HeroFi (Founded August 2021) | 84.8K | 32.0% | - | 63.6K |
| Idle Cyber (Founded October 2021) | 77.0K | 32.0% | - | 66K |
| Elpis.Battle (Founded September 2021) | 48.7K | 31.6% | 30.6K | 28.9K |
| Crabada (Founded August 2021) | 46.4K | 18.1% | 13.3K | 8.2K |
| Summoners Arena (Founded October 2021) | 37.4K | 30.9% | 28.6K | 18.6K |
Figure 8: Social media statistics of SA and prominent Idle RPG games (sources: Twitter, SparkToro, Discord, Telegram)
In addition to in-game features, players will be encouraged to become Summonian citizens on Discord and will be able to engage in incentive/airdrop programs for loyal/early supporter/elite citizens. These activities are accessible to both rookies and early users, with no barriers or limitations.
The Sumonia of Nobles program has been and will continue to be a generator of loyal members and excellent contributions to the Summonia Discord community. Summonia of Nobles has now hired Batch 1 for the position of Governor (Governors are early support and elite members, will receive many privileges and support the community with the team). Other roles will be revealed in the near future. (Source)
Regular activities will be hosted throughout the game universe in the direction of game feature development so that players may increase interactivity and gameplay depth in addition to learning games (Namely: Treasure Hunt, Pop-up Quiz, Summonia Strategy, Summonia Wisdom)
In-game and product-related activities to honor the contributions of the resident community, such as Summonia Adventure (overcoming difficulties in the game) or Bug Bounty Program for all Beta Tests of the game to reward users who experience Test and report bugs to the development team.
Team
The team mostly consists of members that developed the precursor, Summoners Era, but there is also younger talent with years of expertise in the crypto industry and game developing.
Founder - Hung Tran
Founder of OneSoft and Onechain and CEO of ABI Studio.
CEO - Harris Hieu Bui
5-year experience in Game Publishing & Business Development.
CTO - Manh Cuong Nguyen
10-year experience in Software Engineering and Game Development.
CMO - Zoe Hoang
Marketing Ops at Origin Protocol | 4-year experience in Crypto Marketing.
Product Manager - Long Nguyen
First Runner-up at RMIT Blockchain Competition 2021.
Game Designer - Hai Bang Le
Game Operation Manager and Lead Game Designer at Zitga Studio.
Lead Artist - Tuan Anh Trinh
Lead Artist at Zitga Studio | 5-year experience as a Lead Artist.
Lead Engineer - Tuan Do
Lead Engineer at Zitga Studio | 5-year experience in Game Development.
Game Development Lead - Duc Viet Bui
Project Manager at Zitga Studio | 6-year experience in Game Development.
Systems Architect - Dinh Tho Hoang
15 years of experience in IT | Expert in System Security.
Roadmap & Additional Info
Figure 9: SA Feature Roadmap