DISCLAIMER: THIS CONTENT IS FOR INFORMATIONAL PURPOSES ONLY. IT IS NOT A RECOMMENDATION TO PURCHASE TOKENS OR ANY OTHER ASSETS. ANY INVESTMENTS MADE IN THE PROJECTS OR ASSETS MENTIONED BELOW ARE DONE SO AT YOUR OWN RISK. THIS IS NOT FINANCIAL ADVICE.
---
Home to top-tier GameFi projects and communities, Vietnam is one of the most promising markets for entrepreneurs and consumers alike.
After comprehensive research conducted by Ancient8, Kyros Ventures and Coin68, the Vietnam GameFi market report H1 2022 is now published. To get a sense of Vietnam's robust GameFi environment, let us give you a lay of the land!
GameFi Participants
73.8% percent of respondents participate in GameFi by trading NFTs and tokens.
Media sites (61.6%), KOL/investing groups (51.8%), and Guilds (46.3%) are the most popular sources for GameFi info.
GameFi ecosystems
Investors have the highest expectations for BNB Chain's GameFi ecosystem. Sentiment for Solana has tripled since the previous survey, surpassing Ethereum.
GameFi/NFT-focused networks like ImmutableX, Ronin and Flow haven't yet drum up much excitement.
Favourable GameFi projects
Out of all GameFi projects, surveyees' still view Axie Infinity most favorably followed by STEPN and Radio Caca.
Surprisingly, most claimed to have no expectations / opinion on this question, perhaps reflecting the high degree of uncertainty in the current macro environment.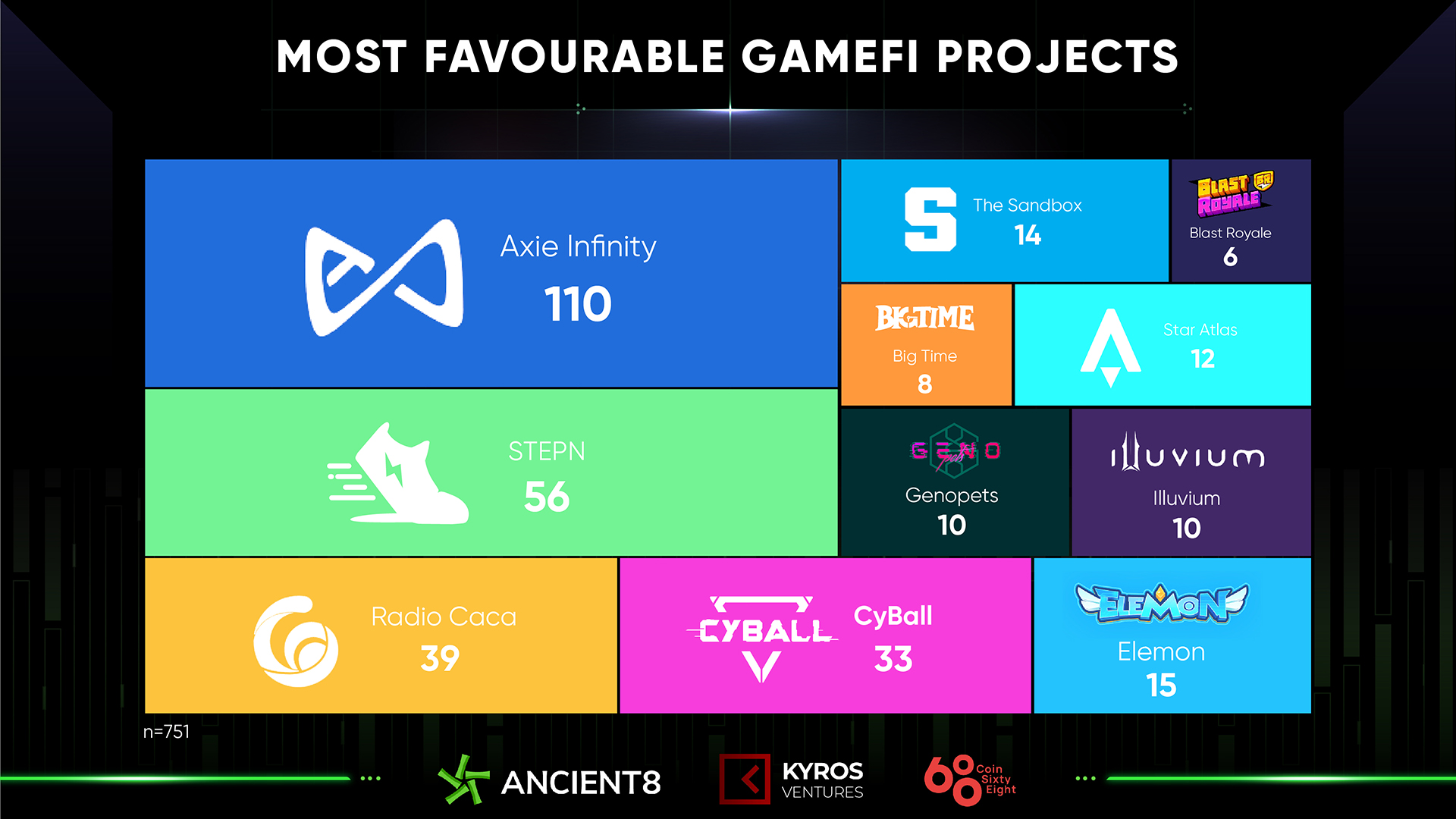 Favourite game genre and expectations
Sustainable economies, good gameplay, and nice graphics are what most investors expect for the next generation of web3 games.
Meanwhile, Role-playing games (RPG/MMORPG) are the most favorite game type among surveyees, followed by shooting games (FPS/TPS) and then MOBA.
GameFi and DeFi comparison
According to our survey, GameFi surpasses DeFi in terms of usage, project simplicity and friendly UI, opening up a superior gateway to onboard millions of users to blockchains.
NFT ecosystems and segments
BNB Chain, Solana, and Ethereum have the highest participation rates among NFTs investors with 58.1%, 48.5%, and 41.9%, respectively.
NFT games, Metaverse game worlds, and Profile pictures are the most popular types of NFTs among survey respondents.
NFT participation rate and motives
NFT investors participate in DeFi at a similar rate to general crypto investors. But their GameFi participation (82.9%) far exceeds crypto investors (58.7%). This indicates a strong correlation between NFT and GameFi adoption.
Care to dive deeper into more insightful highlights across other sectors of Vietnam's crypto landscape in H1 2022?
Check out the full version of "Vietnam cryptocurrency market report H1.2022"
---